*Note - I'm creating this post to aid myself for future reference. Think of it as a cloud database kind of ordeal, but accessible to anyone who needs the information I have archived as well.
The
SR20DET
is a part of the
SR
family of engines from Nissan.
It came as a 1.6 L, 1.8 L or 2.0 L straight-4, 4-stroke internal combustion gasoline engine manufactured by Nissan Motors. If features an aluminium head and aluminium block with steel sleeves in selected models and features a DOHC (Dual Overhead Cam) 4-valve design., with variable timing on select models.
Red Top with sexy custom made exhaust manifold.
It is a popular engine coming from a variety of Nissan cars, generally the
Nissan Silvia (S13, 14, 15)
and
180sx (S13).
S13
180sx Type X (Kouki - 1993-1994) with some Koguchi Power goodies.
Rear
S14
S14 (Kouki 1997-1998)
S15
Silvia S15 Spec-R (1999-2002
It also came in the
Pulsar GTI-R
and the
Nissan Bluebird
(FWD/AWD variants).
Pulsar GTi-R (All Wheel Drive)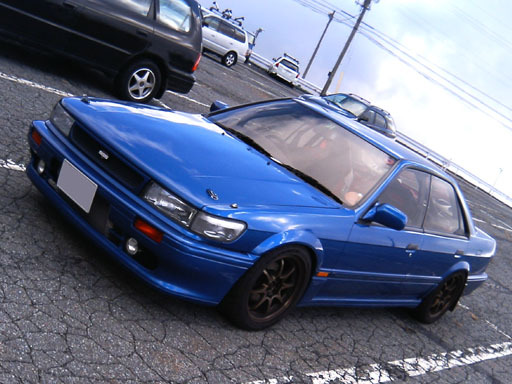 Nissan Bluebird (Sentra in North America, Front Wheel Drive)
This engine replaced the
CA18DE
and
CA18DET
CA18DET, which came standard in a few Nissan vehicles including the first generation 180sx (Zenki)


Engine Specification (Black Top)
Type: Water cooled, 4 cycle in-line 4 cylinder
Valve Mechanism: DOHC (Dual Over Head Cams), 16 Valves (4 valves per cylinder), Chain driven cam sprockets
Bore x Stroke: 86 mm x 86 mm
Bore Pitch: 97.0mm
Block Height: 211.3mm
Displacement: 1998 cc (rounded to 2.0 litres)
Compression: 8:5:1
Throttle Body Bore: 60mm
Power : 151 kW (205hp) @ 6000rpm
Torque: 203 lb-ft (275 N-m) @ 4000 rpm
Turbo: T-25 Garrett
Stock Boost: 7psi
Turbine: 62 trim, 53.8 mm (2.1 in), .80, A/R housing
Compressor - BCI - 1
370 cc injectors
No VCT (Variable Cam Timing) or VVT or VV
Blacktop SR
Differences Between Red Top and Black Top SR20 engines

I will define 3 main types of SR20 engines:

S13 Red top SR20: 1991 -1993 model year
S13 Red top SR20: 1994 - 1998 model year
S14, S15 Black top SR20: 1994 - 2001 model years
S13 RED TOP
This engine was only available in S13's manufactured between 1991 and 1994. Its identifying characteristic is that the rocker cover is painted red.
All these engines came out with the following specifications:
T25G turbo
370 cc injectors
no VCT (variable cam timing)
S13 Redtop SR
When comparing this engine to later model S14, S15 SR20's the following characteristics should be noted:
NO VCT bump on the intake side of the rocker cover
NO slope on the back of the rocker cover
LOW mount intake plenum - the intake plenum sits under the intake runners


S13 BLACK TOP
This engine also came out in S13's only. However it was produced in 1994 model S13's. Its mostly seen in 180sx's but may have also appeared in very late model Silvia's.
This engine is almost exactly the same as the S13 Red top SR20.
Aside from the colour of the rocker cover, there are very little changes to the engine itself - the things that were changed possibly include a slightly different head casting (fins on the outside of the head), also in the update model 180sx's (Type X 1996-98) there was a different ECU and some different sensors (water pump sensor).

This motor DOES have the following things:
T25G turbo
370 cc injectors
No VCT (variable cam timing)
The following characteristics identify an S13 Black top motor:
S13 Blacktop SR


NO VCT bump on intake side of the rocker cover
NO slope on the back of the rocker cover
LOW mount intake plenum - the intake plenum sits under the intake runners
S14/S15 BLACK TOP SR20
The S14 and S15 SR20DET has a number of significant differences that need to be pointed out.
This motor was available in all S14 and S15 200sx's & Silvia's from 1994 to end of production in 2001. Confusingly Nissan produced the S13 Black top motor at the same time.
S15 SR

The main differences between this motor and the S13 SR20's are:
Larger T28 turbocharger
VCT on the inlet cam
Revised intake design (high mount plenum chamber)
Different loom and ECU design (not interchangeable with earlier models)
Different oil filter thread (ryco filter Z445 vs S13 filter which is a Z442)
As mentioned, this motor has a T28 turbocharger, some models have a ball bearing version of this which is subject to a lot of debate.
T28 Ball Bearing
The best way to determine if it is a ball bearing turbocharger is by the small Garrett id-plate on the turbo itself:
466541 = Ball Bearing
466543 = Bush Bearing
For the second section the number:
-001 = S14 turbo (no splitter between wastegate and turbine exit)
-002 = S15 turbo (splitter between wastegate and turbine exit)
Later models also have larger 480 cc injectors which are brown in colour. Early S14's had smaller injectors which from memory are 370 cc.
The sloped cam cover, high mount inlet plenum and the bump on the cam cover for the VCT are dead give aways for the S15 Black Top.
COMMON ISSUES
All SR20's suffer a common problematic trait when it comes to snapping rocker arms. Tomei has engineered a "Stopper" that keeps the rocker arms in place at high revs during heavy boost.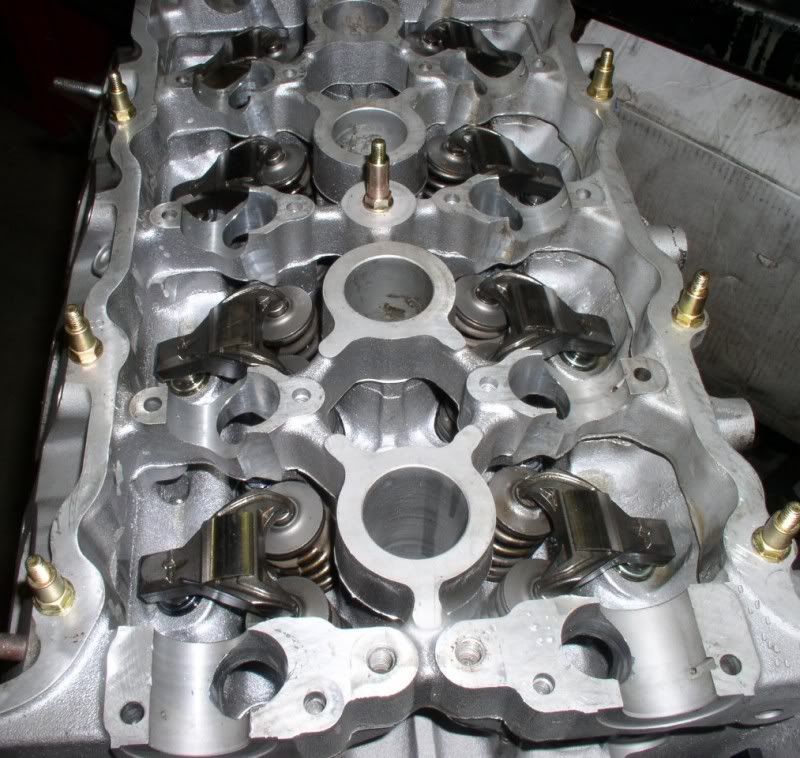 Rocker Arms in a rebuilt SR head.
Tomei Rocker Arm Stoppers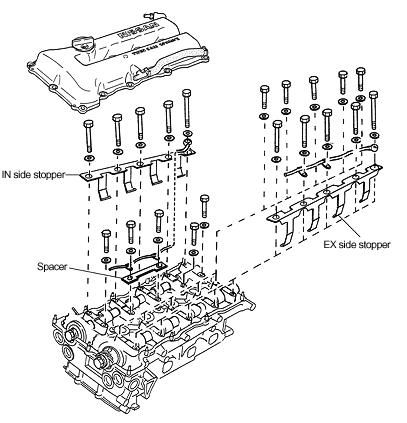 Installation schematics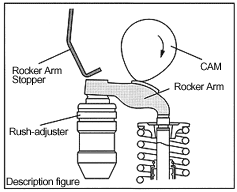 Closer look at how the stoppers effectively work

Now with the S14/S15's, they utilize VVT (Variable Valve Timing) and usually have an issue with the tensioner (rattle comes from the top chain guide under the valve cover). The front cover can wear out and cause slack on the chain thus causing an annoying rattle when in the 2000-3000 rpm range.
Other than that, SR20's are lightweight, suitable alternatives to the KA, CA and RB variation motors.